Chiang Rai is the northernmost large city in Thailand. Located 860 km (530 miles) north of Bangkok, and about 200 km (120 miles) north-east of Chiang Mai, it is the perfect getaway for people looking to experience both city and country life, when taking a break from the bigger cities in southern Thailand. Surrounded by hills, and limestone cliffs, it's no surprise that Chiang Rai offers some of the best scenery Northern Thailand has to offer.
Although not a hugely popular city, it still has plenty to offer. Accommodation here ranges from super cheap hostels, small guesthouses and mid-range hotels, all the way to 5* resorts and private villas. There are plenty of cultural ventures to experience throughout the city, which include Buddhist Temples, Hill Tribe villages along heaps of magnificent rivers and rice fields.
One of the most famous attractions in Chiang Rai, is Wat Rong Khun, also known as The White Temple. It is a contemporary, unconventional, privately owned, art exhibit in the style of a Buddhist temple, and a must-see attraction when visiting the city of Chiang Rai. Other attractions around the city include Lion Hill, and The Night Bazaar – a night market in the middle of downtown Chiang Rai, which also has over 40 restaurants in the vicinity.
Chiang Rai is the perfect getaway for solo travelers, business meetings and couples alike. Its peaceful relaxing atmosphere makes it a great place to unwind and relieve you of any stress. It is also the business center of the Chiang Rai province, so there are plenty of venues at your fingertips for your business meetings, team-building exercises or any special events you may wish to plan.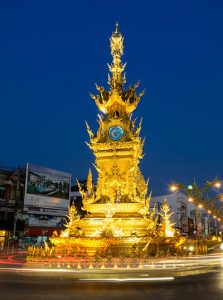 Here at Phuket Thailand Travel we can take care of your entire trip to Thailand by planning everything from A-Z. We offer everything from transport to and from your hotel, finding the perfect accommodation for you, arranging venues for special events and business meetings and we can also plan all of your tours or day trips around Chiang Rai for you or your guests. Feel free to contact us via our website, or give us a call, and we can make your trip to Thailand a trip to remember.